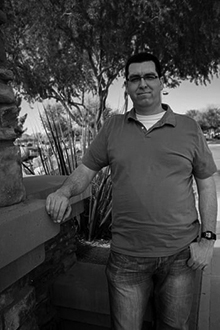 G.C. Harmon became interested in action heroes at a very young age: cops, firefighters, soldiers, even racecar drivers and cowboys. At the age of 10, he discovered writing, and began by creating short stories based on his favorite TV characters. Around the same time, he created the Steve Blazer character, and has been developing the character ever since. As a teen, he discovered the pulp fiction genre, authors writing books with the kind of heroes and stories he aspired to write himself, favorites including the Executioner and Destroyer series. Fresh out of high school and seeking more knowledge on what he was writing about, he joined the Military.
Over the next fifteen years, G.C. Harmon spent time in the United States Army and Army Reserve, first with Artillery as a Forward Observer, then with the Signal Corps. He capped off his military career with a tour of the Middle East in support of Operation Iraqi Freedom. He trained as a cop, graduating from California's Peace Officer Standards and Training Police Academy in 2000. He has worked in the Security industry since 2002, working alongside many police departments.
G.C. Harmon has had many crazy life experiences, some of which find their way into his stories. In 2017, after exploring mainstream publishing and finding no opportunities, he took the plunge and self-published his first Blazer novel, "Red, White and Blue." Through self-publishing, he made new contacts in the publishing business and discovered Wolfpack Publishing, putting out the kind of exciting adventure writing he has done his entire life. He lives in Sacramento, California, and he is always working on new Blazer adventures.