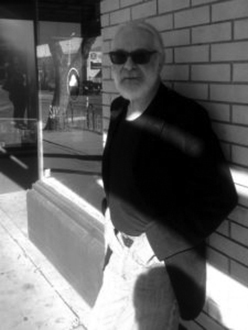 Stephen Mertz is an American fiction author who is best known for his mainstream thrillers and novels of suspense. His work covers a wide variety of styles from paranormal dark suspense (Night Wind and Devil Creek) to historical speculative thrillers (Blood Red Sun) and hardboiled noir (Fade to Tomorrow). Mertz is also a popular lecturer on the craft of writing and has appeared as a guest speaker before writer's groups and at universities.
During high school and college, Steve regularly scandalized his "literary, well-intentioned" creative writing teachers with "thud and blunder melodramas." Throughout military service, travel, and a wide variety of jobs, his goal remained to become a publishing, full-time freelance professional. "It was never a question for me of if, but always when." His first national sale was to a mystery magazine, and his first novel, a detective thriller entitled Some Die Hard, was published under the pseudonym of Stephen Brett. Another Brett novel followed, as did a string of mystery and suspense short stories.
Steve's writing output increased dramatically when he emerged as one of the country's most in-demand writers of adventure paperback novels, averaging four books per year for ten years. His work on Don Pendleton's Mack Bolan series is regarded by fans as some of the best in that series. He also created the Mark Stone: MIA Hunter and Cody's Army series, written under the pseudonyms Jack Buchanan and Jim Case respectively.
Stephen Mertz has traveled widely and is a U.S. Army veteran. He presently lives in the American Southwest, and he is always at work on a new book.