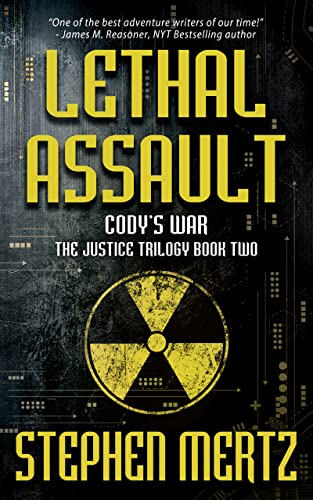 Lethal Assault, Cody's War #2
A Match Made in Hell!
Cody's missions as top American agent, "the President's man," have seen him tackle terrorists, drug lords and international assassins. But nothing—nothing—could prepare him for the potent alliance of evil created when General Greb Vetrov teamed up with Thelma Justice.
Vetrov is the global arms dealer, specializing in the sale of diverted Soviet-era Russian nukes to terrorist groups and rogue nations. One of the wealthiest criminals alive, no photograph of Vetrov has appeared in years. He's a noted ex-military strategist who literally wrote the book on prevailing nuclear endgame theory. Thelma Justice is the biggest media star since Oprah. Her wealth, influence and global media presence is unrivaled. The insane obsession secretly shared by these two: decimate civilization with Vetrov's nukes so Thelma's "enlightened" worldview can rise from the ashes with her as its ruler.
For Suicide Cody and Sara Durrell, it's a red-hot race against time to stop this New Millennium Bonnie and Clyde from blowing up the world. And time is running out . . .
"Stephen Mertz is a Grandmaster of action adventure novels!" —MensAdventureMagazine&Books.com