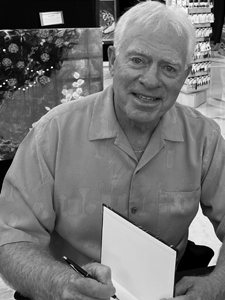 Author Nick Lewis lives in Richmond, Kentucky, with his wife, Bonnie. He graduated from Marshall University in the fall of 1970. Upon graduating, he taught school and coached football for one year at Eidson Elementary. He then switched directions and began a forty-year newspaper career. He held circulation and marketing positions at four different newspapers in Ohio, West Virginia, and Kentucky. In 2004, he was appointed publisher of The Richmond Register in Richmond, Kentucky. He retired from that position in June 2013 and began his quest to become a full-time author. 
In January 2014, Nick created The Detective Carla McBride Chronicles. The first book in the series, The Gold Fedora, debuted in October 2019. The Black Rose, Chasing Truth and Redemption, and Quandary completes the series to date. Book five in the series, Enigma, is forthcoming. He has another published novel, When Eagles Soared. 
When Nick is not writing and revising manuscripts, he enjoys golf, gardening, and creating new adventures with his wife of fifty years. Bonnie plays an essential role in his journey of writing novels. He is an avid Marshall University football fan with three grown children, three grandchildren, and two cats named Zorro and Ziva.