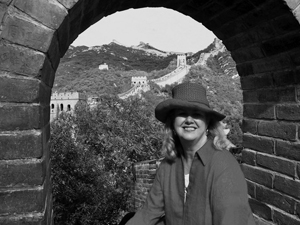 A career Air Force officer, Merline Lovelace served at bases all over the world. Among her many assignments were tours with the Military Assistance & Advisory Group, Taiwan; the 377th Air Base Wing, Vietnam; and at the Pentagon as Deputy Military Assistant to a Presidential appointee and in Organization of the Joint Chiefs of Staff. She also served as Commander, 3200 Support Wing, Eglin AFB Florida—the biggest and best base in the Air Force. Her numerous awards include the Defense Meritorious Service Medal, the USAF Legion of Merit with one Oak Leaf Cluster, and the Bronze Star for service in Vietnam.
When she hung up her uniform for the last time, she decided to combine her love of adventure with a flair for storytelling, basing many of her tales on her own experiences in the military. Since then, she's produced over 100 action-packed sizzlers—many of which have made the USA Today bestseller list.  More than twelve million copies of her books have been printed in thirty-six countries.  
When she's not tied to her keyboard, Merline enjoys reading, chasing little white balls around the fairways of Oklahoma and traveling to new and exotic locales with her husband. Visit her website at http://merline-lovelace.weebly.com/ or friend her on Facebook for news and information about her latest releases.