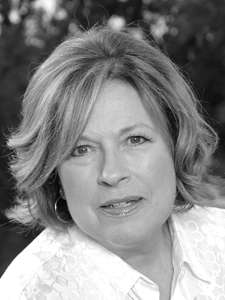 Thonie Hevron is a retired 35-year veteran police Community Service Officer, Records Supervisor and 911 dispatcher who grew up in Mill Valley, California. She now lives in Petaluma, California with her husband, Danny, two rescue dogs and a cat. For ten years, she lived in the High Desert town of Bishop, California, working as a dispatcher and writing monthly columns for the Inyo Register. Returning to the Bay Area in 2004, she worked for a local law enforcement agency and wrote a regular column for the Tri-Valley Times and the North Valley Times. 
Thonie's writing includes four award-winning mystery novels and short stories. She is a member of the California Writers Association/Redwood Writers Chapter, SistersinCrime/NorCal Chapter and the Public Safety Writers Association.
Her work has appeared in the Beyond Borders: 2014 Redwood Writers Anthology and the Felons, Flames and Ambulance Rides: Public Safety Writers 2013 Anthology—along with recently releasing in Cops Writing Crime Fiction: To Serve, Protect and Write. She is the author of four award-winning mystery thriller novels, soon to be re-edited and published by Rough Edges Press. Her website, www.thoniehevron.com, includes a blog with law enforcement guests as well as a writers' column. 
When not writing, Thonie rides horses, actively participates in her parish church community and enjoys traveling.