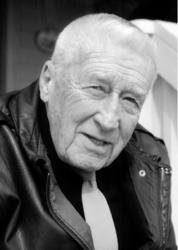 In July of 2006, the last major mystery writer of the 20th Century left the building. Only a handful of writers in the genre—Agatha Christie, Dashiell Hammett, and Raymond Chandler, among them—achieved such superstar status.
Spillane's position, however, is unique—reviled by many mainstream critics, despised and envied by a number of his contemporaries in the very field he'd revitalized, the creator of Mike Hammer had an impact not just on mystery and suspense fiction but popular culture in general. 
The success of the reprint editions of his startlingly violent and sexy novels jump-started the paperback original, and his redefinition of the action hero as a tough guy who mercilessly executed villains and who slept with beautiful, willing women remains influential to this day (Sin City is Frank Miller's homage).
When Spillane published I, the Jury in 1947, he introduced Mike Hammer, the most famous of all fictional private eyes. Hammer swears vengeance over the corpse of an army buddy who lost an arm in the Pacific saving the detective's life. No matter who the villain turns out to be, Hammer will not just find him, but execute him—even if he's a she.
This was something entirely new in mystery fiction, and Spillane quickly became the most popular—and controversial—mystery writer of the mid-twentieth century. In addition to creating an eye-for-an-eye hero, the writer brought a new level of sex and violence to the genre. He was called a fascist by left-leaning critics and a libertine by right-leaning ones. In between were millions of readers who turned Spillane's first six Hammer novels into the bestselling private eye novels of all time.
The controversial Hammer has been the subject of a radio show, comic strip, and several television series, starring Darren McGavin in the 1950s and Stacy Keach in the '80s and '90s. Numerous gritty movies have been made from Spillane novels, notably director Robert Aldrich's seminal film noir, Kiss Me Deadly (1955).
As success raged around him, Mickey Spillane proved himself a showman and a marketing genius; he became as famous as his creation, appearing on book jackets with gun in hand and fedora on head. His image became synonymous with Hammer's, more so even than any of the actors who portrayed the private eye, even McGavin and Keach. 
For eighteen years, well past the peak of his publishing success, Spillane appeared as himself/Hammer in the wildly successful Miller Lite commercials, alongside his "Doll" (Lee Meredith of Producers fame) and overshadowing countless former pro athletes. 
Alone among mystery writers, he appeared as his own famous detective in the 1963 film, The Girl Hunters. Critics at the time viewed his performance as Hammer favorably, and today many viewers of the quirky, made-in-England film still do. Virtually an amateur, Spillane is in nearly every frame, his natural charisma and wry humor holding him in good stead next to the professional likes of Lloyd Nolan (Michael Shayne of the '40s Fox movie series) and Shirley Eaton ("golden girl" of Goldfinger). 
Of course, The Girl Hunters wasn't Spillane's first feature film—it wasn't even his first leading role in one. In 1954, John Wayne hired Spillane to star with Pat O'Brien and lion tamer Clyde Beatty in Ring of Fear, a film he co-scripted without credit, receiving a white Jaguar as a gift from producer Wayne.
A second wave of Hammer novels appeared in the 1960s, as did four novels about espionage agent Tiger Mann as well as The Delta Factor (1967), introducing modern-day pirate, Morgan the Raider, co-producing a film version in 1970. Two non-Hammer novels, much longer than his previous books, were aimed at the fiction market then dominated by Jacqueline Susann and Mario Puzo: The Erection Set (1972) and The Last Cop Out (1973), both making bestseller lists. He surprised publishing—and his readers—by writing two acclaimed books for older children, The Day the Sea Rolled Back (1979) and The Ship That Wasn't There (1982). A third, previously unpublished book in the Josh and Larry series is collected with the previous two in The Shrinking Island from Wolfpack Publishing.
In addition to his Miller Lite commercials, he made a memorable appearance as a murder victim on Columbo ("Publish or Perish," 1974) and acted in two independent productions directed and written by his friend and collaborator, Max Allan Collins (Mommy and Mommy's Day). He and Collins collaborated on numerous anthologies, both of Spillane's own work and that of his fellow mystery writers, and brought Spillane's original conception of Mike Hammer as a comic book character to life as Mike Danger for a two-year run (1995 – 1997), with a science-fiction twist.
A theatrical version of I, the Jury in 1982 and Stacy Keach's several popular Hammer series, including a number of TV movies, helped keep Mike Hammer alive in the popular consciousness. Mickey pitched in by writing two final Hammer novels—The Killing Man (1989) and Black Alley (1996).
Revenge was a constant theme in Mike Hammer's world—Vengeance Is Mine! among his titles—with the detective rarely taking a paying client. Getting even was the motivation for this detective.
Mike Hammer paved the way for James Bond—Casino Royale has its revenge aspect, and its last line variant of "It was easy." And every tough action P.I., cop, lone avenger and government agent who followed, from Shaft to Billy Jack, from Dirty Harry to Jack Bauer are sons of Spillane. The latest Hammer-style heroes include an unlikely one—the vengeance-driven young woman of the Dragon Tattoo trilogy—as well as a more obvious descendent, Lee Child's Jack Reacher.
But in the years since his first appearance in I, the Jury (1947), it seems ever more obvious: there is only one Mike Hammer.
And but one Mickey Spillane.