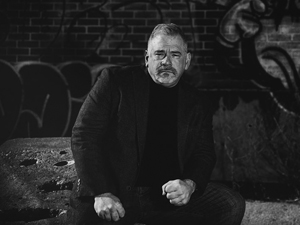 You know that guy you picture when you read an old time PI novel? The one who stows a bottle of halfway decent whiskey in his bottom desk drawer? The one who sports a constant five o'clock shadow and—on occasion—abrasions on his face and knuckles that makes you wonder what the other guy looks like? Who has dark circles under his eyes because he hasn't slept more than a couple of hours since he pulled that impossible-to-solve case? He takes his work seriously but never himself? Well, that guy exists in the persona of John A. Curley–a martial arts trained, veteran Private Investigator, who is adept at tech and has a way with words, even if he does hunt and peck on the keyboard.
In his 35-year-career, Curley has worked locally, nationally and globally on wrongful death cases, divorce and custody cases, missing person cases, personal protection assignments and high-profile election fraud cases. He has logged thousands of hours on over 70 homicide cases—often with the defense relying heavily on the results of his investigations. Curley is perhaps the only investigator to warn his clients about Martin Frankel prior to his record setting fraud. He has currently assembled one of the most skilled and exceptional investigative teams in the country.
His passion for child protection led him to his friend and mentor, the sadly deceased Andrew Vachss—the foremost authority on Child Protection the world has known. He adopted Vachss' principles and advocates for our most vulnerable population. He has been responsible for helping to remove children from abusive situations while ensuring that adult predators are put away. He also advocates for stronger laws against child predators.
Curley is a consummate storyteller whose bold, real-life experiences provide a perfect basis for intriguing dynamic fiction. His writing reflects the stunning need for change in how the legal system approaches child protection and domestic violence.  His short stories have graced several periodicals and in the collection, Protectors 2: Heroes. 
He is currently writing the Jonathan Creed PI series. Bonds is the first installment—with two sequels coming soon. He is also lending his considerable skill on the collaborative novel, Hard Stop. Joining Curley's characters are the literary creations of Wayne D. Dundee, S. A. Bailey and Michael Black. The proceeds of this team effort go to the Legislative Drafting Institute for Child Protection in memory of Andrew Vachss. 
Find out more about Curley at www.jcurleyandassociates.com