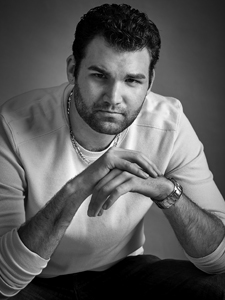 Jarrett Mazza is a graduate of Goddard College's MFA in Creative Writing Program in Plainfield, Vermont as well as The Humber School for Writers. Before completing his terminal degree, Jarrett studied writing at the University of Toronto School of Continuing Studies and comic book writing under Ty Templeton and Andy Schmidt.
He has had stories published online in the GNU Journal, Bewildering Stories, Trembling with Fear, Aphelion, The Scarlet Leaf Review, Toronto Prose Mill, and The Fictional Cafe. His work is featured in anthologies by Silver Empire Publishing, Zimbell House Publishing, NBH Publishing, MuseWrite Press, Dragon Soul Press, Gypsum Sound Tales, and Hellbound Books. He was also named Honorable Mention for the Freda Waldon Award for Fiction, nominated for an Indie Book award, and featured as a visiting author for the nationwide We Read Canadian event in 2020.
Jarrett lives in Hamilton, Ontario. You can follow him on Twitter at @JarrettMazza or visit his website at jarrettmazzawriter.com.