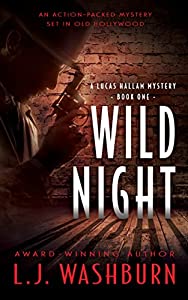 Wild Night, A Lucas Hallam Mystery #1
A FAST-PACED MYSTERY SET IN OLD HOLLYWOOD—WITH TWISTS AND TURNS THAT NEVER END.
It's the 1920's, and Lucas Hallam is something of a legend: a Texas Ranger turned Pinkerton agent turned Hollywood P.I. So, when the occasion arises, Hallam saddles up and rides off with Tom Mix, William S. Hart, and several other famous movie cowboys from the silent era.
Hallam doesn't think of his past often, and it's the furthest thing from his mind when he goes into Chuckwalla, California—hoping to turn the ghost town into a movie set . . . even when the two men start shooting at him.
But that's the least of Hallam's problems. His latest hired job is to protect Elton Forbes—founder of the Holiness Temple of Faith and accused of blackmail and murder.
Hallam is the only one who believes Forbes. The only question in his mind is whether he'll survive long enough to find the real killer.
Will good or evil win in the end?