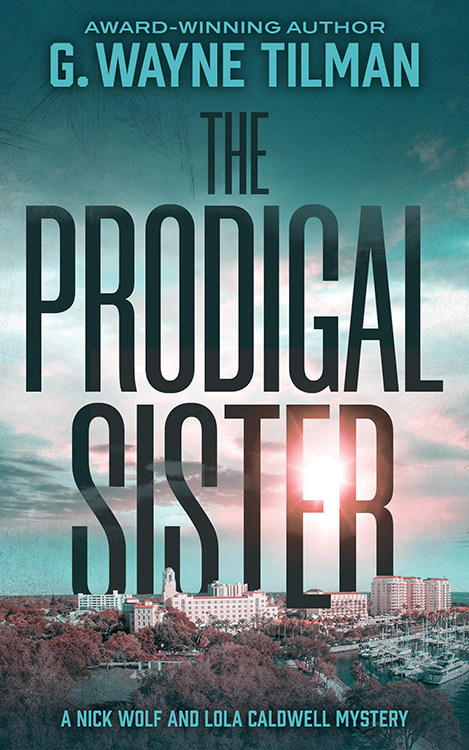 The Prodigal Sister, Nick Wolf and Lola Caldwell #3
Prepare for a family reunion like no other, where danger and secrets collide…
Bestselling author G. Wayne Tilman delivers a gripping masterpiece in The Prodigal Sister, the third thrilling installment of the Nick Wolf & Lola Caldwell PI Mysteries series. Get ready to unravel a web of treachery as Nick Wolf, the seasoned PI, finds his world turned upside down.
With a thriving agency and the captivating Lola Caldwell by his side, Nick seems to have it all. But there's a void in his heart that only his long-lost sister, Angie, can fill—a sister he hasn't seen in three decades, since the tragic loss of their parents.
Just when he thought his search for Angie was in vain, she resurfaces, but with a deadly twist. She's now entangled with a crime family hell-bent on erasing her existence from the world. And this is no ordinary crime family—it's none other than the notorious Bekrićs, a name that sends chills down Nick and Lola's spines.
As they confront their own demons and face off against the relentless Bekrić family, Nick and Lola must protect Angie at all costs. The stakes couldn't be higher, and the secrets they uncover threaten to shatter their world.
In this pulse-pounding tale of suspense, loyalty will be tested, alliances will be shattered, and the truth will be their only salvation. Can Nick and Lola outwit the forces that seek to destroy their family? Will they uncover the dark secrets that haunt Angie's past? Find out in The Prodigal Sister, a riveting journey where love, betrayal, and redemption intertwine in a battle for survival.