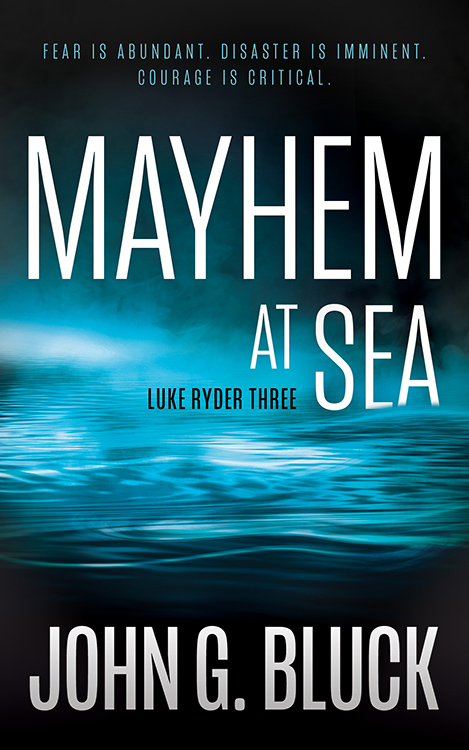 Mayhem at Sea, Luke Ryder #3
AN ACTION-PACKED, HIGH SEAS THRILLER FULL OF UNEXPECTED TWISTS AND PAGE-TURNING ADVENTURES.
Kentucky Deputy Sheriff Luke Ryder is on a heart-stopping mission to save the lives of 5,000 passengers aboard the luxury cruise ship, Sea Trek. When pirates hijack the ship—and demand a jaw-dropping ransom of $350 million—Luke finds himself in a nail-biting game of cat and mouse.
Luke enlists the help of FBI Agent Rita Reynolds to outsmart the pirates and protect his girlfriend, Layla, from danger. But when the pirate captain threatens to set off the bomb in the engine room, the mission becomes even more urgent.
As the clock ticks down and the fog rolls in, Luke must act fast to prevent disaster. Armed with a Soviet-era grenade launcher, he faces off against the pirates in a thrilling attempt to save the lives of everyone on board.
Will Luke be able to stop the sea raiders in order to protect his loved ones and everyone else before it's too late?
"Author John Bluck has added another narrative to his Luke Ryder trilogy, Mayhem at Sea. In this latest Ryder adventure, John brings us another page turner. Ryder's quiet cruise to the Alaska coast and his anticipated whale watching and rugged coasts soon turns into a fight for his and Layla's lives along with those of several hundred fellow passengers. Fresh off a major investigation as part of an FBI task force, Ryder reunites with his FBI counterparts and an overbearing Hostage Rescue Team executive. Follow along while Luke Ryder does his utmost to thwart a terror-spawned disaster while staying within the confines of the law and the FBI's strict adherence to their code of integrity." –R. Scott Decker, author of, Recounting the Anthrax Attacks: Terror, the Amerithrax Task Force, and the Evolution of Forensics in the FBI.