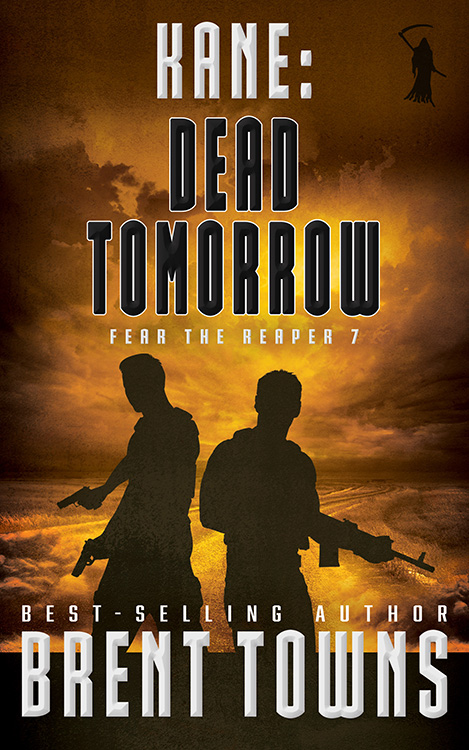 Kane: Dead Tomorrow, Fear the Reaper #7
Buckle up for an adrenaline-fueled descent into darkness!
Bestselling author Brent Towns plunges you into the heart-stopping seventh installment of the gripping Fear the Reaper series with Kane: Dead Tomorrow. Get ready to witness a battle where survival is a luxury and death lurks around every corner.
When the infamous Kane is handpicked to lead an elite team on a seemingly routine extraction mission in Bolivia, he enlists the aid of his trusted comrade, Raymond 'Knocker' Jensen. Little do they know, they've been duped—falling headfirst into a high-stakes heist for unimaginable riches belonging to the ruthless cartel.
In the explosive crossfire, the son of the cartel kingpin meets his untimely end, igniting a raging inferno of vengeance. The boss will stop at nothing to avenge his fallen heir. Gunfire will shatter the silence, and rivers of crimson will stain the very ground they walk on.
For Jensen and the enigmatic figure they call the Reaper, this treacherous journey may spell their ultimate downfall. As they face the twisted machinations of their enemies, their fate hangs by a thread.
Prepare for a white-knuckle ride, where loyalty is tested, alliances are shattered, and the price of survival might be higher than they ever imagined. In Kane: Dead Tomorrow, the Reaper's relentless pursuit of justice may lead him straight into the jaws of death itself. Can they cheat fate and emerge victorious, or is this truly the end of the road?
Immerse yourself in a world where danger lurks at every turn, and only the brave will live to see another day.