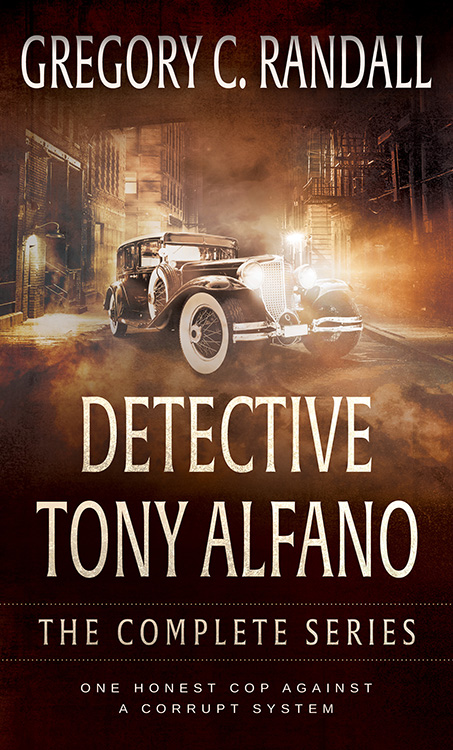 Detective Tony Alfano: The Complete Series
A GRITTY POLICE PROCEDURAL SERIES—ONE HONEST COP AGAINST A CORRUPT SYSTEM.
In Chicago Swing, a mad bomber is indiscriminately killing citizens as Tony Alfano treads the sharp edge of sanity and delusion in the dark speakeasies and night clubs of Chicago's underworld in a mad dash to find the culprit. Meanwhile, an assassin employed by Mussolini's fascists arrives in Chicago searching for three men intent on political murder in Chicago Jazz. Can the detective stop the murderer before they strike again? In Chicago Fix, two boxers die in the ring. Is it murder, Chicago politics, ethnic hatred, or the ever-present clash of those with and those without? Alfano is a good guy in a bad world throughout Chicago Boogie Woogie. Following the trail of a killer, he goes to Hollywood for the first time, where he uncovers twisted individuals more corrupt than the murderous Al Capone and his Chicago gangs. In the never-before-published Chicago Back Beat, Alfano confronts his most dangerous foe yet—a killer with no conscience who left a Chicago politician dead on the street. Can he solve the murder before the end of Prohibition on New Year's Eve?
From depression-racked Chicago's Century of Progress World's Fair to movie making in Tinseltown, Detective Tony Alfano has seen it all in his twenty years on the force. Never wavering, his need for justice is impenetrable—as is his deep-rooted love for a city that always carries the day.
Detective Tony Alfano: The Complete Series includes Chicago Swing, Chicago Jazz, Chicago Fix, Chicago Boogie Woogie, and the all-new Chicago Back Beat.