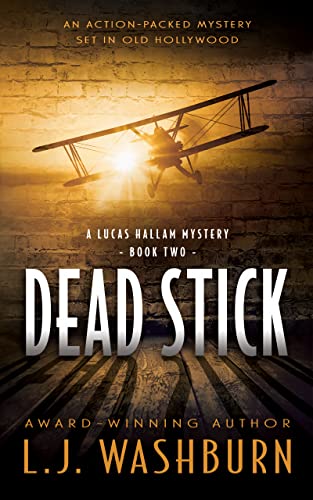 Dead Stick, A Lucas Hallam Mystery #2
A HIGH-FLYING MYSTERY SET IN OLD HOLLYWOOD—A PRIVATE INVESTIGATOR NOVEL WITH INTRIGUE.
Given Lucas Hallam's background, it's not surprising that he's easily able to find work as an extra on the sets of various Hollywood westerns. This retired Texas Ranger gets a lot of work as stuntman and other work—work that isn't as much fun—as a private detective. It is in this role that Lucas finds himself hired to work on the set of Death to The Kaiser!
This is the first time Hallam has had the opportunity to be around an aviation picture. He's worked on a couple of war films, but—like most of his breed—Hallam regards a job he can do from horseback as a job worth doing.
His first day on set, one of the biplanes battling in the sky has engine failure and starts falling, and Hallam is tasked with stopping the sabotage on set. But since Count Wolfram von Ottenhausen—one of Germany's leading aces during WWI—was hired for the movie, the KKK has been ruffling feathers …
"Set in the 1920s, this intriguing mystery marks the return of likable Lucas Hallam … True-to-life characters with a dash of 1920s seasoning contribute to a satisfying read." —Publishers Weekly